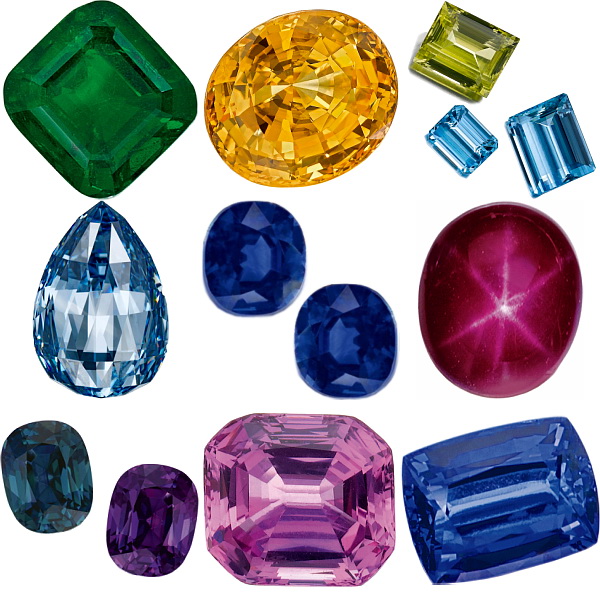 Fine Gemstones London
Since 1875 Hirschfelds Ltd is one of the most established jewellery companies in the British gemstone industry
We stock here in Hatton Garden a fine selection of loose gemstones and loose diamonds.
Gems and gemstones from London's jewellery quarter.
The above image shows:
Emerald cut emerald, Oval yellow sapphire, Aquamarines, Quartz, Briolette diamond, Sapphires, Star ruby,
Alexandrite, Pink Topaz, Tanzanite.
The following gemstones can be supplied.
Agate
Alexandrite
Almandine Garnet
Amazonite
Amber
Amethyst
Ametrine
Ammolite
Andalusite
Andesine Labradorite
Apatite
Aquamarine
Aventurine
Azurite
Beryl
Black Opal
Bloodstone
Boulder Opal
Calcite
Carnelian
Cat's Eye Apatite
Cat's Eye Aquamarine
Cat's Eye Moonstone
Cat's Eye Tourmaline
Chalcedony
Charoite

Chocolate Opal
Chrome Diopside
Chrome Tourmaline
Chrysoberyl
Chrysoberyl Cat's Eye
Chrysocolla
Chrysoprase
Citrine
Colour-Change Garnet
Colour-Change Sapphire
Coral
Danburite
Demantoid Garnet
Dendritic Agate
Diamond
Druzy Azurite
Dumortierite Quartz
Emerald
Fire Agate
Fire Opal
Fluorite
Fossil Coral
Garnet
Goshenite
Grossularite Garnet
Hematite

Hemimorphite
Hessonite Garnet
Howlite
Idocrase
Imperial Topaz
Iolite
Jade
Jadeite
Jasper
Kunzite
Kyanite
Labradorite
Lapis Lazuli
Larimar
Lepidolite
Malachite
Malaya Garnet
Mali Garnet
Maw-Sit-Sit
Melanite
Moldavite
Moonstone
Morganite
Mystic Quartz
Mystic Topaz
Nephrite Jade

Obsidian
Omphacite Jade
Onyx
Opal
Opal (Black & White)
Opal Doublet
Pearl
Peridot
Pietersite
Prehnite
Pyrope Garnet
Quartz
Quartz Cat's Eye
Rainbow Moonstone
Rainbow Pyrite
Rhodochrosite
Rhodolite Garnet
Rose Quartz
Ruby
Rutile Quartz
Rutile Topaz
Sapphire
Seraphinite
Serpentine
Sillimanite CatsEye
Smithsonite

Smokey Quartz
Snowflake Obsidian
Sodalite
Spessartite Garnet
Sphalerite
Sphene
Spinel
Spodumene
Star Diopside
Star Garnet
Star Moonstone
Star Rose Quartz
Star Ruby
Star Sapphire
Sugilite
Sunstone
Synthetics
Tanzanite
Tiger's Eye
Topaz
Tourmaline
Tsavorite Garnet
Turquoise
Variscite
Zircon
Zultanite