About Antique Jewellery
Antique jewellery London, Antique jewellers, Vintage jewellery, Old Cut Diamonds
Hatton Garden London EC1
ANTIQUE JEWELLERY LONDON, FINE JEWELLERY, VINTAGE JEWELRY LONDON
Hirschfelds love for Antique jewellery Vintage jewellery and Antique rings started in 1875.
We have been avid collectors of antique jewellery Secondhand jewelry & fine diamonds ever since.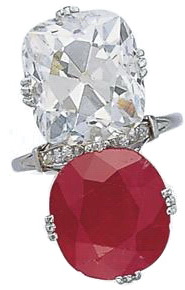 Antique jewellers London Hatton Garden- Fine Antique Jewellery London , Vintage Jewellery London Antique jewelry Second hand jewellery London and old jewellery.Wholesale jewellery. Rare and colllectable jewellery and Antique jewellery repair London.

Fine jewellers Hatton Garden London UK. Hirschfelds jewellers have on offer a large collection of rare contemporary jewellery, period jewellery, fine antique jewellery, vintage jewellery and estate jewellery.
Antique rings, Antique diamond rings, antique engagement rings. We are specialist second hand jewellers. Our interest in Vintage Jewels & Antique Gems constantly grows.
The desire for heritage jewellery whether bequeathed or bought, is gaining ground. Hatton Garden Antique Jewelry London
Georgian jewellery, Victorian jewellery, Art Nouveau, Edwardian jewellery and Art Deco jewlery to the 1940-1970's periods. Including Secondhand jewelry, Estate jewelry and Sentimental jewellery plus Secondhand jewellery, second hand rings, antique gems & antique gemstones London England UK.
Hirschfelds has become a favourite destination for the discriminating jeweller seeking distinctive fine jewellery, as well as antiques, collectibles and objets d'art.
For more than 142 years, we have been buying jewellery, selling jewellery, valuing jewellery, and authenticating antique jewellery.
Each antique jewel is a witness to the romantic tastes, elegant designs and masterful craftsmanship of a forgotten era.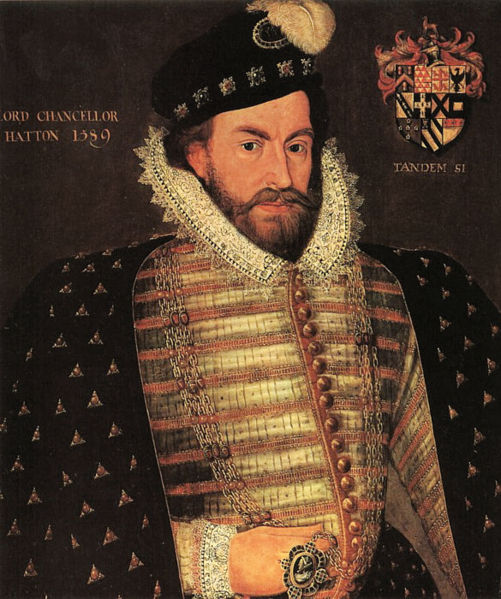 Sir Christopher Hatton
Every antique piece of jewellery in our collection has its own story to tell - a Unique Tale!

Vintage Business. We have seen our rare vintage jewels surge in popularity and the wave of nostalgia continues. The return to traditional trustworthy safe havens. Whether you desire the delicate artistry of an "Art Nouveau" flower brooch, the cool elegance of an "Edwardian" platinum pendant, or the bold, colourful geometry of an "Art Deco" bracelet you are aspiring to a thing of beauty. Quality, great design and workmanship are key elements. Classic antique jewellery will surpass the rise and fall of fashion trends and make a wonderful investment.
In a 100 years time, the jewel will still be there. That is what is magical about antique jewelry: It is like wearing a piece of eternity!
Please click here to view our collection of Antique Jewellery on line for sale preloved jewellery, heritage jewelry, antique jewels, engagement rings & vintage jewellery that exemplify the artistry, beauty and craftsmanship of these earlier periods.
Victorian jewellery (circa 1837 to 1901). Jewellery during this period was of a more romantic nature, designs were often influenced by sentimental and delicate motifs such as hearts, bows, flowers and birds. The most popular gems of this period were the Garnet, Amethyst, Coral, Turquoise, Seed Pearl and the Opal. Jewellery miniatures and cameos, often in the form of snakes were also very popular. The discovery of Diamonds in South Africa in 1867, increased the accessibility and affordability of Diamonds creating a wider demand for diamond set jewellery. After the death of Queen Victoria's husband Albert in 1861, the nation went into mourning, increasing the demand for jewellery with Black Enamel, Jet and Onyx for the latter part of the century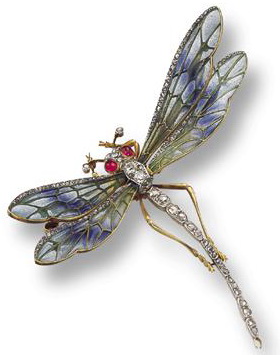 .
Art Nouveau jewellery (circa 1895 to 1910) challenged the jewellery conventions of the Victorian era. Art Nouveau jewels are characterised by natural sinuous forms, unusual materials and colours, and a dream-like blending of nature and fantasy.
The Art Nouveau craze started in Paris during Queen Victoria's final years in reign and blossomed for a brief period during King Edward VII reign. Jewellery during this time was based on craftsmanship with more focus on the design. Soft curves, sinuous lines and pale colours were the height of fashion. The aesthetics of the materials played a more important role rather than the quality of the gems, so stones such as the Moonstone, Opal, Amethyst, Citrine, Peridots and Freshwater Pearls were the main gems used.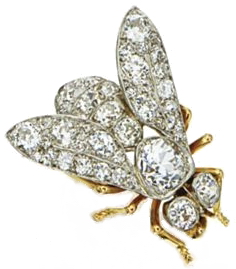 Tiffany Brooch
In contrast, Edwardian jewellery (circa 1900 to 1915) are lace-like creations with sparkling diamonds and white pearls. Platinum with its cool elegance was the metal of choice. And, then, things began to heat up. When Edward became King after Queen Victoria's death, he and his wife Alexandra set the trend for the "Bell Epoque" fashion. Jewellery took on a new almost ethereal lightness with saw piercing and filigree techniques to match the delicate and lacy fashion. The increasing desire for Platinum bought about the creation of the 'Invisible' setting, where very little metal was needed to secure a stone. with White Gold being developed as a less expensive alternative. Diamonds and Pearls were the most popular gems during this period , with the White on White colour tone creating an air of elegance and luxury. The most desired pieces were the Negligee pendant, Brooches in motifs such as Stars, Circles and Crescents and Bar pins with lacy filigree designs.
Art Deco jewellery (circa 1915 to 1935) is hot! With bold geometric forms, striking colours and a sense of fun, the Art Deco jewels capture the excitement and vibrancy of the Jazz Age.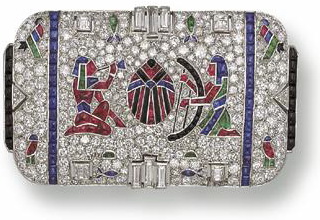 Growing political tensions, the aftereffects of the war, and a general reaction against the perceived decadence of the turn of the century led to simpler forms, combined with more effective manufacturing for mass production of high-quality jewellery. Covering the period of the 1920s and 1930s, the style has become popularly known as Art Deco. Walter Gropius and the German Bauhaus movement, with their philosophy of "no barriers between artists and craftsmen" lead to some interesting and stylistically simplified forms. Modern materials were also introduced: plastics and aluminum were first used in jewellery, and of note are the chromed pendants of Russian born Bauhaus master Naum Slutzky. Technical mastery became as valued as the material itself; in the west, this period saw the reinvention of granulation by the German Elizabeth Treskow (although development of the re-invention has continued into the 1990s).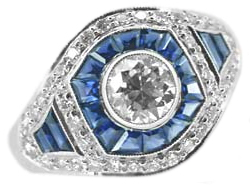 During the art deco period jewellery became more simple, geometrical and of a more linear design with the addition of vivid contrasting colours. Society's emphasis on freedom of expression gave way to new and creative combinations such as Coral & Diamond, Turquoise & Sapphire and Ruby set with Rock Crystal. Black Enamel was also often used to adding a bolder contrast. The geometric & cubic phenomenon introduced us to new diamond shapes such as the Emerald, Baguette, Trilliant and Calibre Cuts, strong influences in the symmetrical designs. The most desired pieces during this era were long dangling earrings, diamond watches, dress clips, flexible bracelets and long strands of pearls. The Cartier firm, founded in 1847, reached dizzying heights of Art Deco splendor under the direction of Louis Cartier (1874 - 1945). His fascination with exotic motifs led to the creation of diamond, ruby and platinum earrings from which hung jade rondels carved with elephants. Art Deco drew inspiration from the whole spectrum of the arts, the Ballets Russes and the Fauves, Cubism, Suprematism, Neo-Plasticism and Futurism. Nor were its exponents confined to the modern, European world alone: an 'Egyptian' vogue was promoted by the discovery of the tomb of Tutankhamen, while other themes were borrowed from China and Japan, from Persia and Africa. For more than ten glorious years, Art Deco jewellery, in all its many forms, reigned supreme.Art Deco Jewelry displays through sumptuous illustrations, coupled with a lucid and informative text, the creations of the Haute Joaillerie (the establishment jewellers such as Cartier, Van Cleef and Arpels, Mauboissin and Chaumet) and of the avant-garde designers: Jean Fouquet, Raymond Templier, Gérard Sandoz, Jean Dunand and Paul Brandt, to whom we owe some of the most daring and brilliant creations of the period. Alongside the jewellery, there is also an exquisite range of accessories: dainty vanity cases fashioned with the maximum of detail in the minimum of space; boxes, cigar and cigarette cases; and a spectacular array of clocks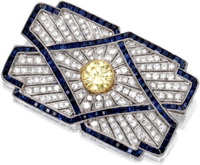 Click to view Our orginal 1930s catalogue of art deco brooches and Pendants
Art deco diamond brooches. Platinum Diamond double clip brooches
Diamond bracelets diamond pendants, art deco diamond necklaces
Platinum diamond earrings.

Retro jewellery (circa 1935 to 1950). Fashion during this era was soft, delicate and feminine, focusing more on the seductive curves of the figure. The design of jewellery followed suit with more emphasis on curves, glamour and femininity, jewellery became larger, bolder and more fanciful. Yellow Gold regained its popularity and was often multicoloured through combining its alloys. Romantic motifs such as bows, flowers scrolls and ribbons became popular and the increase in Hollywood glamour bought about the 'larger than life' jewellery, cocktail rings, bracelets and necklaces were designed large in size and full of colour.
Old Cut Diamonds. Before the technological means were found in the mid 19th century to fashion the outline of a diamond to shape a perfect circle, the circumference of polished brilliants followed the outline form of the rough diamond from which the brilliant was fashioned. Two types of old cut diamonds that had a four- fold symmetry fashioned in the brilliant style are recognised, a square cushion or an oblong cushion.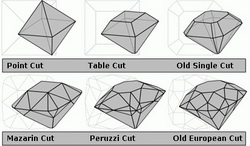 These old cushion brilliants, cushion cut diamonds or old mine cut are described today as 'old mine brilliants'. Later in the 19th century the second type of old cut brilliants appeared; those with a round or rounded girdle outline, possessing an eight-fold symmetry appeared. Such a shape is described as 'Old English brilliant', 'Old European brilliant' or 'Victorian- cut'. Both types of old brilliant cut diamonds are characterised, when compared to the round brilliants we see today, by their small table facet size, large culet facet and thick crown dimensions. The retention of maximum weight from the rough was an important consideration when cutting, so old cut brilliants have greater depth in respect to their width, than today's round brilliants. Therefore the brilliance of older brilliants may not be as high and the amount of light returned to the eye ('life') from the smaller table facets of the older stones is less than that created by modern round brilliants. This explains why older stones are not as optically brilliant as modern stones.
However, the larger crown facets and thick crown heights possessed by the older brilliants means they exhibit a greater degree of dispersion ('fire') than their modern counterparts. This optical attribute is best exposed in lighting that has small point sources such as candle-light or modern spot lighting; old cut stones do not appear their best under modern fluorescent strip lighting. Old cut brilliant diamonds were fashioned at a time when candle light and gas light were the principal means of illuminating rooms so old cut stones look much better than modern stones in low levels of candle light illumination when the full beauty is displayed. Those who handle antique diamond jewellery will have experience in scrutinising old cut diamonds. Up to quite recently, many old cut diamonds were lost to us because of the tendency for many in the gem and Jewellery industry to re-cut old cut stones into the modern round brilliant style.
Old cut stones were not considered as desirable or as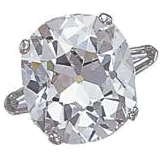 valuable as the more modern round style. Any old cut stone of commercial quality that would yield a modern brilliant of appreciable size, e.g. half to one carat or more would be refashioned. In the past gem laboratories would see many old cut stones submitted for grading by dealers seeking to know whether the diamond could be re- cut to a certain acceptable size and quality. Sadly many attractive shaped old diamonds were altered and lost to us forever. That trend to re- cut now seems to have stopped. It has occurred to dealers and retailers that the consumer may be looking for something different - an old cut stone, an item that is not as common to see as a modern cut diamond.To describe the symmetry grade of this older style of diamond adequately on Diamond Reports is something of a challenge. It seems unjust to judge the symmetry elements, such as an off-centre table facet, variation in crown height, an off-centre culet and a non-symmetrical outline of the girdle, against grading standards devised to assess modern diamonds fashioned with technology and knowledge only available to today's diamond cutters. Old European Diamonds tend to "mask" their true body colour especially when mounted in a piece of jewellery for the following reasons: They were hand faceted with less than concise proportions and consequently do not reflect light as brilliantly as does their modern faceted counterpart: "The Modern Round Brilliant."
Many of the old European and old mine faceted diamonds were mined in South Africa and have a slight to strong degree of natural fluorescence inherent in their crystalline structure caused predominantly by varying degrees of nitrogen levels. This characteristic may enhance the overall brilliance of a diamond and can be an asset. Only when an oily appearance is viewed from strong fluorescence does this characteristic prove to be undesirable. Old European as well as Old Mine Diamonds become rarer each day due to the fact that most of these fine older diamonds have been recut to modern proportions to enhance profit margins and saleability in today's modern jewellery pieces. These older cut diamonds are quite frequently less expensive by significant amounts than modern faceted diamonds. Many old cut brilliant diamonds do not possess as fine a symmetrical arrangement of facets and proportions as modern stones yet display a degree of fascination and romanticism wanting in today's round brilliant diamonds.
Hirschfelds also offer jewellery repair and jewellery restoration, London antique jewellery repair, antique jewellery restoration, antique ring sizing, fine custom-made designed jewellery and a jewellery valuation service. This includes antique jewellery valuation and jewellery appraisal. We pride ourselves on the extraordinary service and knowledge provided by our entire staff . Please Click here to find out more about our antique jewellery repair services London plus a comprehensive list of all of our London jewellery repairs services.

We are buyers of second hand jewellery Hatton Garden, We are buying antique jewellery London and are always looking to buy fine old jewellery and to purchase unique antique jewelry, estate jewellery and second hand jewellery.
Hirschfelds has an extensive collection of antique diamond jewellery, antique diamonds, antique engagement rings, precious gemstones, and jewels in prices ranging from the affordable to the extravagant. - Antique brooches, vintage necklaces, antique earrings and objets d'art featured are also featured. We welcome trade enquiries for our ecletic selection of fine antique jewelry, antique Georgian Jewelry, Antique Victorian Jewelry, and antique Edwardian jewelry as well as Art Deco & Art nouveau, Vintage Brooches, Victorian Earrings, Antique Bracelets & Gem set Jewelry. We ship our antique jewelry worldwide by Fedex
Our web site endeavours to help those who seek more information on diamonds, as well as reflect the wide range of jewels and exquisite pieces available in the Hirschfelds jewelry collection.
Since 1875 - More than one hundred & forty two years, we have been travelling the world in search of rare objects & Jewels.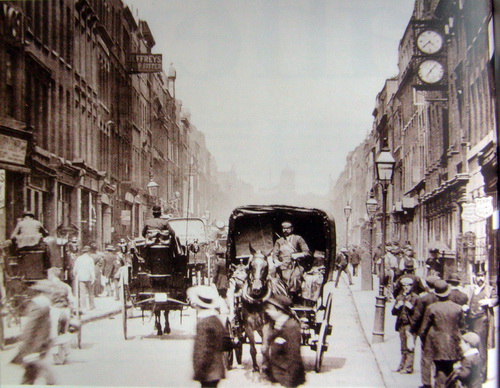 Hirschfelds are in the heart of Hatton Garden London Antique jewelers in London, We have amassed more than a century and a quarter of experience and connections with fellow jewellers who share our passion for antique jewellery and modern gems.
Antique jewellers London - on line map to find us in Hatton Garden London

7 Blleding Heart Yard Hatton Garden London EC1N 8SJ England UK.
Telephone 020 7405 1536 - +44 20 7405 1536 from abroad.
Please e-mail us for for more information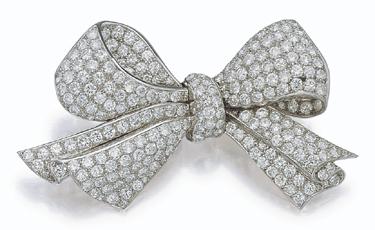 Antique Jewellery London, Vintage Jewellery London. Antique Jewellers London. Hirschfelds antique jewelry London for sale Second hand jewellery Antique Rings, Antique Diamond rings, Victorian rings, Edwardian rings, Edwardian diamond jewellery, Art Deco rings, Georgian rings, Art Nouveau rings, Gold Antique Rings, Edwardian jewellery, Heritage Jewellery Diamond Antique Rings, Vintage rings, Victorian Antique Rings, Diamond Rings, Rings. Antique engagement rings. Art Deco Earrings, Art Nouveau earrings, Diamond Earrings, Antique Diamond Earrings, Victorian Diamonds, Victorian Diamond Earrings, Antique Pendants, Victorian Pendants, Victorian Gold lockets, Antique Gold Necklaces, Old Jewellery, Secondhand 19th Century Jewellery Second hand diamond rings & Second hand Jewelry, Art Deco Bracelets, Art Deco pendants, Vintage jewellery, Diamond Bracelets, Diamond earrings, Earrings, Cufflinks, Pendants, Necklaces, Bracelets, Lockets, Jewellery, Watches, Sotheby's jewellery

Our valuers and jewellery experts examine each antique jewel and research its period, style and provenance. We examine the quality of any gemstones and test the purity of the precious metals.
We are located in the the heart of London's historic jewellery quarter of Hatton Garden for antique jewellery - close to Clerkenwell, Cheapside, Covent Garden, Baker Street, Marylebone, Bloomsbury, Barbican, Holborn, Fleet Street, Central London, Islington, Smithfield, Soho, St Pauls, Oxford Street, Bond Street, The West End, Westfield & The City of London. Hatton Garden London, being a unique district on the fringe of the City in central London, is located within the area bounded by Clerkenwell Road, Gray's Inn Road, Holborn and Farringdon EC1 London England UK.
Close to EC2, EC3, EC4, W1, W2, WC1, WC2, N1, NW1, NW3, NW8, SW1, SE1, E1
We are looking to purchase vintage images or vintage photographs of Hatton Garden, Holborn and surrounding areas. Please email details info@hirschfelds.co.uk
The image above right is Hatton Garden 1895